Online talks about COVID-19
27 March 2020. Related: COVID-19: on the web, COVID-19.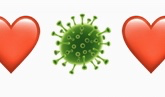 Simon Collins, HIV i-Base
There are already many excellent overviews that review current knowledge about COVID-19.
All are available as free to access webcasts.
The economics of a pandemic: the case of COVID-19
Paolo Surico and Andrea Galeotti
https://icsb.org/theeconomicsofapandemic
Two professors of Economics at London Business School analyse the COVID-19 pandemic by breaking it down into four parts: 1. Science 2. Health Policies 3. Economics 4. Macroeconomic policies.
This includes data (mainly from Korea) that reports most higher infection rates in 20-40 year olds, one-third of which are asymptomatic.
The quest for the coronavirus vaccine
Seth Berkley, Epidemiologist and head of GAVI, the vaccine alliance, reviews the challenges and likely timeline for a coronavirus vaccine – and why this might be easier than the challenge for HIV.
https://www.facebook.com/TED/videos/1716225505187129
ACTG community advisory board: COVID-19 webinar
Comprehensive community review of current knowledge presented by Rachel Bender Ignacio for the Community Advisory Board of the AIDS Clinical Trials Group.
The slides are also available to download.
https://youtu.be/eYS51cJvgqU (webcast)
https://bit.ly/3bnvGZi (slides)
HIV advocates update on COVID-19 – AVAC webinar
https://www.avac.org/event/hiv-advocates-update-covid-19
How to navigate the coronavirus infodemic
Excellent overview on COVID-19 by long-term US HIV activist Nelson Vergel.
https://www.youtube.com/watch?v=Wdsd5UFC7w8&feature=em-lsp (webcast)
https://drive.google.com/file/d/1rCwosWU3_Xaa32h5B7VLNzjx52BXT1NX/view?usp=drivesdk (slides)
LSHTM learning course on COVID-19
A free online course to learn about COVID-19 developed by the London School of Hygiene and Tropical Medicine.
https://www.futurelearn.com/courses/covid19-novel-coronavirus
IAS webinars on COVID-19 and HIV
The IAS is organising a series of webinars to discuss the pandemic and its impact on people living with HIV. Questions can be sent in advance as part of online registration.
https://iasociety.zoom.us/webinar/register/WN_jTThLSkIQVeR9FreQWhwgQ
The first webinar of this series, COVID-19 and HIV: What you need to know (on 3 April 2020) is now online:
https://www.youtube.com/watch?v=25ve6LevLpY
It includes discussions on:
Latest WHO guidelines on COVID-19 and HIV
Global health systems preparedness
Frontline lessons learned and measures implemented for people living with HIV