Asymptomatic COVID-19 is common in people living with HIV
2 May 2022. Related: Coinfections and complications, COVID-19: HIV and COVID-19 coinfection, COVID-19.
Simon Collins, HIV i-Base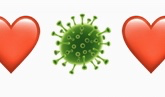 A sub-study in about one-third of participants in the international REPRIEVE trial reported COVID-19 infections from April 2020 in approximately 13%. Of these, roughly 60% were asymptomatic.
Overall, median age was 53 years, 35% were women, 47% Black or African American. The median CD4 count 649 cells/mm3, and 97% with HIV undetectable viral load (<400 copies/mL).
Of the 2,464 participant included, 318 had either SARS-CoV-2 antibodies (260/318), without previous vaccination and 58/318 had were diagnosed clinically.
In a self-completed questionnaire, only 40% reported symptoms. These rates were lower rates in low and middle income countries, in Black or African American race, older in age, and with higher ASCVD risk score.
Symptoms were more common with obesity, metabolic syndrome, and low HDL levels.
There was no association by CD4 counts and HIV viral load.
This report was first published on 17 April 2022.