Accumulating SARS-CoV-2 mutations in prolonged COVID-19 in advanced HIV off-ART
3 August 2022. Related: Coinfections and complications, COVID-19.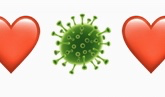 This paper includes a case report that tracks the accumulation of more than 20 key mutations in an HIV positive person with prolonged COVID-19.
Once started, ART suppressed HIV and SARS-CoV-2 cleared within nine weeks.
The 22-year-old South African has been HIV positive since birth. At time of presentation her HIV was not well managed with viral load >100,000 copies/mL and CD4 count of 91 cells/mm3. Restarting ART reduced viral load but 8 months later, viremia remained high and COVID-19 illness persisted. Switching to a TLD regimen reduced viral load to ≥50 copies/mL and COVID-19 cleared within 6 to 9 weeks.