MPX vaccine update – access, doses, safer MPX sex
11 August 2022. Related: Special reports.
Note: This post is mainly notes and links rather than a full article.
WHO MPX vaccine meeting – using a lower dose
On 2 August 2022, WHO held an online day workshop about MPX vaccines, gaps in knowledge (many) and designing new studies (virtually nothing has started yet, including in the UK).
One proposal was to use a lower vaccine dose, given a different way. Using 20% doses will increase the currently limited supply by five times. As well as giving more people single doses, it could also give two doses to those who need them.
The US has already changed to using the new lower dose.
Rather than being given as a subcutaneous injection, it will be given between the layers of the skin (intradermally). This uses a metal tool to scrape the skin first.
Slides from the WHO meeting and webcasts in English and French are at this link:
https://www.who.int/news-room/events/detail/2022/08/02/default-calendar/who-monkeypox-research—what-study-designs-can-be-used-to-address-the-remaining-knowledge-gaps-for-monkeypox-vaccines
Evidence supporting the alternative dose and use in the US
This study shows why the reduced dose could be used.
Frey et al. Comparison of lyophilized versus liquid modified vaccinia Ankara (MVA) formulations and subcutaneous versus intradermal routes of administration in healthy vaccinia-naïve subjects. (2015) Vaccine, 33(39); 5225-5234. DOI: 10.1016/j.vaccine.2015.06.075.
Information about US move to the new dose.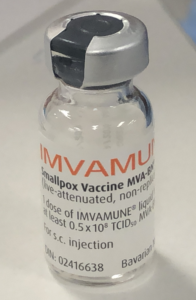 FDA. Monkeypox Update: FDA Authorizes Emergency Use of JYNNEOS Vaccine to Increase Vaccine Supply. (9 August 2022).
https://www.fda.gov/news-events/press-announcements/monkeypox-update-fda-authorizes-emergency-use-jynneos-vaccine-increase-vaccine-supply
This article in STAT news discusses some of the cautions, which will also have been considered before the US changes.
https://www.statnews.com/2022/08/09/will-low-dose-vaccination-stretch-the-monkeypox-vaccine-supply-or-backfire
Limited vaccine access – in the UK and globally
However difficult the news, the UK has already used most of the first supply of MPX vaccines.
Some of these stocks will need to be held for health workers and other people who are at unavoidable higher risk.
Many people who wanted the vaccine have not been able to get access. Many of these people are at high risk.
An additional 100,000 doses have been ordered, but these might not become available for at least 4-6 weeks, maybe not until September/October.
Some countries with higher case numbers than the UK will have even less access to vaccines.
Vaccines take time to be manufactured.
There is now global demand.
Only one company in one factory is currently making the vaccine.
Reducing risk without a vaccine: safer MPX sex
It is very likely that MPX will continue to be a significant health issue for at least the next few months.
This is not great news – especially coming so soon after COVID – but it is a fact.
The UK had now had more than 3000 cases. These are still highly concentrated in London but are now increasingly reported across the UK.
The article below talks about behaviour change to break the current crisis – and to limit further cases by reducing individual risk for the next 4–6 weeks. This is short term. MPX is highly infectious in some settings. It can be a nasty infection.
Taking a break from monkeypox: four weeks out for August
This is not about giving up sex – it is about certain types of sex and only for a short time. This will be easier for some people and might be difficult for others.
Vaccines need time to get the best protection
Even though vaccines are likely to be highly effective, they need time to work.
Many people might have some protection after two weeks,
Many more people will have higher protection after four weeks.
This frequently updated factsheet includes information about other aspects of MPX.