Question
Will the monkeypox (MPX) vaccine reduce symptoms?
14 August 2022. Related: All topics, Coinfections, Opportunistic infections, Sexual health.
Thank you so much for the clear explanations regarding the monkeypox vaccine especially for those who are HIV positive.
I understand that there is uncertainty around one dose, that some protection might only be reached at 4 weeks and that that the only way to get more precise data regarding efficacy against transmission is to wait for the results of official clinical trials.
I am also interested in the much less discussed issue regarding efficacy of the vaccine in reducing severity in the event of a breakthrough infection. I imagine this is easier to observe anecdotally.
I realise that the U.K. vaccine program is still in its early days but many thousands have been vaccinated. Canada started one month earlier. Yet, to my knowledge no observations or anecdata have been expressed in this regard.
Therefore will we also have to wait until the end of clinical trials to have any evidence regarding the efficacy in the attenuation of symptoms ?
Answer
Hi there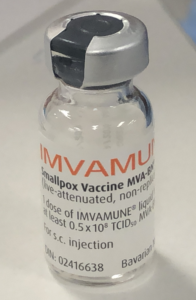 Thanks for the questions – and good that you are reading about this.
The MPX vaccine is called Imvanex, Imvamune, Jynneos and MVA in different countries. It is designed to reduced symptoms of MPX infection. The vaccine will also hopefully prevent infections, we don't know how well it does this yet.
You are right though that we need to see what happens to people in real life.
Earlier studies measured immune responses which were very high though, so the MPX vaccine is expected to be very good.
Please see this related question with more info:
https://i-base.info/qa/20255