HTB: no. 1/2 (January/February 2022)
7 February 2022. Related: Editorial.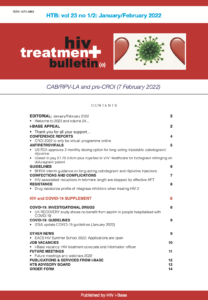 Welcome to the first issue of HTB this year. 
And we start with a reference to Paul Blanchard, HTB's inaugural editor. Paul liked that we catalogue each issue as a volume, and so we still do, and remarkably this year we are now at volume 23.
Much of HTB still follows a similar activist format that Paul developed, but one change is that we now post articles online as soon as they are written. So reports from CROI which runs over the next two weeks, will be added during the conference, before being collated in the March issue.
The current issue a reduced one though, to cover the more limited news in January before the upcoming CROI 2022 which will now be a virtual only meeting.
It was also to give the editorial team a short break: 23 volumes is a significant block of work…
ART news includes the FDA expanding the indication for injectable long-acting cabotegravir/rilpivirine to allow for two-monthly dosing. This brings US prescribing in line with the EU.
BHIVA have also published new recommendations for access to long-acting cabotegravir/rilpivirine which is already available in Scotland and due across the rest of the UK shortly.
Other ART news is that the long-running legal dispute between Gilead and ViiV Healthcare over bictegravir infringing the dolutegravir patent has been settled.
We cover two interesting papers on details of HIV.
One that shows effective ART stops HIV-associated telemere shortening – important for both ageing and mortality. The other describing resistance mutations associated with integrase inhibitors when treating HIV-2.
Most people will not be surprised that the UK RECOVERY study didn't find a benefit from aspirin to treatment COVID-19 – but a review of effective treatments is covered in the updated IDSA guidelines.
Finally, i-Base is looking to expand our advocacy team. Ideal candidates will have experience of HIV and be driven by an active interest in treatment advances and in helping people understand their treatment options.
Please apply if interested and circulate this in your networks.
And as we look forward to what we hope will be a better year, we also thank Paul and our other supporters again, including the editorial comment group, many of whom have been involved as long as we have.
Happy 2022, happy CROI and happy reading…