HTB: no. 3 (1 March 2022) PDF downloads
1 March 2022. Related: PDFs.
PDF files use a single column layout that makes it easy to read on tablets and other hand held devices.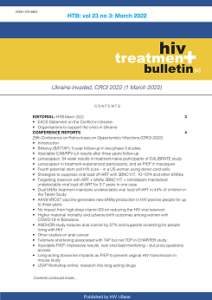 HTB 3 March 2022 – (1 March 2022)
Ukraine invaded – EACS statement.
First reports from CROI 2022: Biktarvy 5 years, lenacapravir naive and experienced. CAB/RPV-LA (ATLAS-2M), HIV remission and cure research, bNAbs, cabotegravir-LA PrEP.
Plus menopause and HIV, news on COVID-19 and more…
Plus news on COVID-19.
Previous issues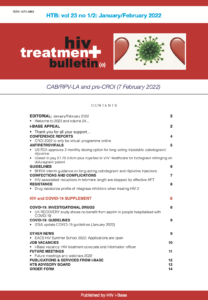 HTB 1/2 January/February 2022 – (7 February 2022)
ART news included UK guidelines to access CAB/RPL-LA injections, impact on preserving telomere length, integrase resistance in HIV-2 and more.
Plus news on COVID-19.