WHO webinars: COVID-19 Global Research and Innovation Forum
1 March 2022. Related: COVID-19: on the web, COVID-19.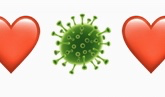 The third WHO webinar in this series was held on 24 – 25  February 2022 and can now be viewed online.
To continue to accelerate research that can contribute end the current pandemic and facilitate that those affected receive optimal care; while integrating innovation fully within each research area.

To support research priorities in a way that contributes to the development of global research platforms and research priorities and leads to better preparation for future pandemics.
Over 100 research scientists, experts, policy makers and donors worldwide contributed.