Update on monkeypox in the UK: reduced cases, vaccine access, transmission and treatment…
1 September 2022. Related: Special reports, Monkeypox.
Simon Collins, HIV i-Base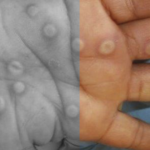 This issue of HTB continues to report on the current monkeypox (MPX) crisis and range of responses.
The following news has particular relevance to the UK.
Most importantly, latest figures show that the number of new cases has been dropping in all areas of the UK, including London. [1]
This is likely linked to several factors.
Behavioural changes by gay and bisexual men.
Antibody protection in people who have come in contact with MPX.
Protection from vaccines.
Under-reporting and deciding not to seek health care.
Many men have reduced their risk of exposure to MPX by limiting situations where it is easy to have multiple anonymous partners. This lessens the chance that any single social event will result in many new cases. A US survey has reported that up to 50% of gay men have made such changes and a study published in MMWR predicts this should reduce overall cases. Both are reported in this issue of HTB. [2, 3]
Behaviour change is a short-term strategy that some community organisations, including i-Base, have been encouraging, especially until new vaccine supplies become available. [4]
The impact from vaccinating more than 33,000 people at high risk of MPX should start to show soon. Even though the vaccine only partially prevents infection, it should reduce severity of symptoms. Approximately 30,000 of these vaccines were given to gay and bisexual men, mainly in London, which is the centre of the UK crisis. It takes 2 to 4 weeks after vaccination for highest levels of immune responses to develop.
However, one outcome from the success of community information about MPX is that, anecdotally, some people are choosing to self-manage MPX, especially if mild. This can be to avoid both stigma and the need to isolate. This includes for economic reasons if they need to continue to work. This will lead to under-reporting of MPX.
An update to the BHIVA statement on MPX includes a summary of vaccine efficacy results, including in people living with HIV.
This recognises that it might take up to four weeks to generate a maximum response to a single shot. It also recommends a second vaccine shot for people living with HIV in order to achieve the maximum overall response to >95% (two weeks after the second shot). [5]
The three clinics run by the Chelsea and Westminster Foundation in London, including 56 Dean Street, had diagnosed 620 MPX cases by mid July. Results from this cohort were presented at AIDS 2022, and are also reported in this issue of HTB. [6]
The UK now has very limited supplies of monkeypox vaccine until the next shipment is delivered, hopefully later in September. [7]
The potential to use intradermal rather than subcutaneous administration for the MPX vaccine, might allow up to five doses from a single vial. The convincing pharmacokinetic and immunogenicity data from a 2015 study has also led to intradermal use in the US. Practical concerns include the need for training for health workers, inadvertent subcutaneous injection with the low dose, using syringes with minimal waste and stability of the vial to allow multiple use. These will hopefully be quickly understood from use at the UK sites chosen to pilot this approach. [8, 9, 10, 11]
UK use of tecovirimat for people with mild MPX should increase with the launch of the PLATINUM study. This study plans to randomise 500 non-hospitalised people with MPX to either tecovirimat or placebo. Participants can join while self-isolating as it does not involve clinic visits. However, the protocol and participant information refers to potential drug interactions between tecovirimat and several antiretrovirals (darunavir, rilpivirine and maraviroc) being an exclusion criteria. This is disappointing as these interactions should not be a clinical concern over the short two-week duration of the study. The study researchers are working with the MHRA to reverse this decision. [12]
We report several cases that should inform future prevention and care. These include:
• That people without symptoms might also be infectious. [13]
• That non-sexual transmission has been reported. [14]
• That MPX can pass to pets. [15]
• That routine sexual health checks are important: one man was diagnosed with syphilis and advanced HIV at the same time as MPX. [16]
Finally, although the decision to rename MPX is unlikely to be made until 2023 and might still include the word monkeypox, the different subtypes have been renamed as Clades 1 and 2 for Central and West Africa clades, respectively. [18]
References
This report was updated on 13 September to expand on possible reasons for the drop in cases.