Pictures from the march in Washington
25 July 2012. Related: Activism, General.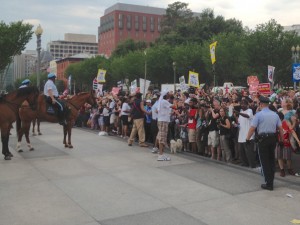 A few pictures from marches and demonstrations held in Washington yesterday to focus on global health and access to HIV treatment.
At the end of the rally, as an extension of the peaceful protest, a smaller group of activists used feb ribbon to tie US dollars to the fence surrounding the White House. The police responded by clearing the pavements and arresting these activists.
These are a selection from 60 pictures posted to the i-Base facebook pages. Please join us, share, like and post similar HIV related news.