Responses to COVID-19: latest options for treatment
24 May 2020. Related: General, Research studies.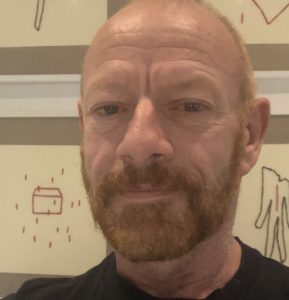 Simon Colins, HIV i-Base
One response to COVID-19 is to track and report on the volume of new research – when there is limited information about risk, treatment and management.
This is especially important living in a country with one of the highest rates of mortality. A few months ago very few people would have predicted this level of terrible outcomes.
This response is partly to be able to provide the most up-to-date information for people living with HIV.
As a result, the monthly HIV treatment bulletin (HTB) now has a separate supplement: HIV and COVID-19. Not an imaginative title, but accurate – and also a useful update of COVID-19 research in general.
Links to the first five issues are below.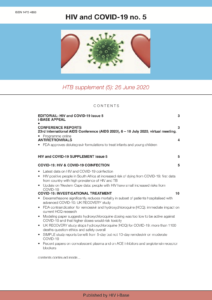 HIV and COVID-19 no 5 – (26 June 2020)
HIV and COVID-19 coinfections including data from South Africa, dexamethasone effective in advanced COVID-19, hydroxycholoquine not effective in UK RECOVERY study, plus updates on remdesisivr and other treatments…
Contents online. (html pages)
HIV and COVID-19 no 5 – 26 June 2020 (PDF)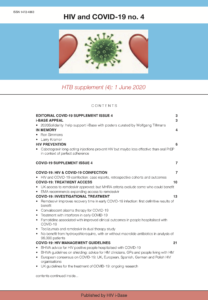 HIV and COVID-19 no 4 – (1 June 2020)
HIV and COVID-19 coinfections, UK access to remdesivir, convalescent plasma, interferon, famotidine, tocilizumab, concern with hydroxychloroquine, UK research plus more…
Contents online (html pages)
Download: HIV and COVID-19 issue 4 (PDF)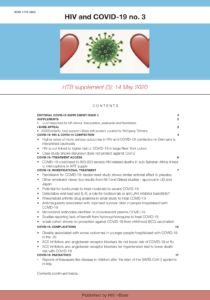 HIV and COVID-19 no 3 – (14 May 2020)
Latest issue includes news on latest treatments, including US approval of remdesivir, plus tentative results with other drugs that reduce immune inflammation – perhaps just as essential to use as antivirals.
Contents online. (html pages)
Download: HIV and COVID-19 issue 3 (PDF)
HIV and COVID-19: no 2 – (17 April 2020)
The second supplement of HTB with more than 30 COVID-19 reports.
Contents online. (html pages)
Download: HIV and COVID-19 issue 2 (PDF)
HIV and COVID-2019: no 1 – (27 March 2020)
This 20-page HTB supplement compiles links to articles and resources about COVID-19 including information for managing the care of HIV positive people. It includes short reviews of key studies and early guidelines.
Contents online. (html pages)
Download: HIV and COVID-19 issue 1 (PDF)
Other news and resources on COVID-19 are at:
https://i-base.info/covid-19