Bite-size news from EACS 2015… remarkable results with dolutegravir monotherapy
22 October 2015. Related: Activism, Conferences, Research studies.
NOTE: AT CROI 2017, A HIGHER RISK OF VIRAL REBOUND AND DEVELOPMENT OF INTEGRASE INHIBITOR DRUG RESISTANCE MEANS THAT DOLUTEGRAVIR MONOTHERAPY IS NOT RECOMMENDED. ANYONE USING DOLUTEGRAVIR IS RECOMMENDED TO SWITCH TO DUAL OR TRIPLE THERAPY. 
---
Simon Collins, HIV i-Base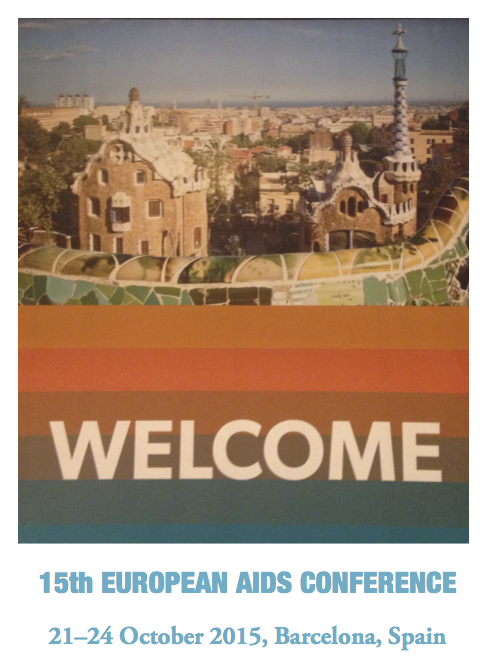 The 15th European AIDS Conference (EACS) was held from 21-24 October 2015 in Barcelona, Spain.
This is always an important meeting and this year was no exception.
This page has short summaries of the main news, with links to more detailed articles and reports.
1.  Dolutegravir monotherapy
Several studies reported on how treatment-experienced patients who were on stable ART, have been maintained for months after switching to  dolutegravir monotherapy.
If the results are supported with longer follow-up, they have the potential to change HIV treatment and treatment access globally, not least because of cost.
2.  Dolutegravir plus 3TC dual therapy as first-line ART
In a similar approach to using fewer than three active drugs in ART, another study reported the first results from using dolutegravir plus 3TC.
This study was in people starting treatment for the first time. Again it was a small study but the early results were unexpected and encouraging.
In all participants, viral load rapidly become undetectable and stayed there for six months,
3.  New European HIV treatment guidelines
New European HIV treamtent guidelines were lauched at EACS 2015. The guidleines are produced by the European AIDS Clinical Society who organise the main conference.
Updated throughout, the main changes include starting ART at any CD4 count, preferring integrase inhibitors over efavirenz and recommending PrEP to reduce the risk of HIV transmission. Other changes are reported in the full article.
4.  Using non-HIV drugs to achieve undetectable viral load 
An important case study was presented on how someone with extensive drug resistance was able to get an undetectable viral load – for the first time in 20 years.
More importantly, viral load has stayed undetectable for eight months, allowing the chance to safely reduce the numbers of drugs being used.
5.  Pricing and access to oral hepatitis C drugs: sofosbuvir and daclatasvir
A poster modleling prices for generic hepatitis C drugs, that included a 50% mark up for profit, predicted that costs can still be reduced.
This further highlights the obscenity of the current pricing model in high-income countries that has limited access to effective treatment to cure HCV to only a tiny percentage of people living with hepatitis C.