NHS PrEP access: ACT-UP demo and community statements
10 December 2014. Related: General.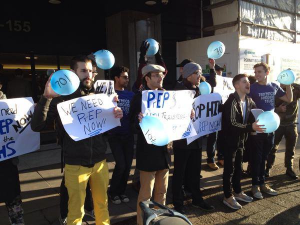 PrEP works. NHS access needed now.
The activist group, ACT-UP London organised a community demonstration this morning to support the advisory group working on access to PrEP. Great to see support from ACT-UP, ReShape, Positively UK, i-Base,  THT and others.
With 6000 people diagnosed with HIV in 2013 – around 500 a month – condom-based prevention programmes are failing many people. Of these cases, 3250 were in gay men and 16% of these were men younger than 24.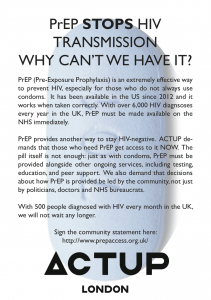 Advice to use condoms works – but clearly not well enough. Alternative and effective choices are needed urgently. The evidence that this daily pill prevents HIV infection was convincing enough for it to be approved in the US in July 2012.
The NHS set up the PROUD study for evidence of whether this could also work in the UK. In October 2014, this was proven far more quickly than anyone expected.
The NHS needs to provide access now – and it needs to do this quickly – not on the 2017 timeline  originally proposed.
Since the early results from the PROUD study, there has already been a fast and growing demand for an early access programme for people at highest risk.
A broad community statement drafted by six HIV prevention organisations last week, already has more than 1000 signatures.
As an HIV positive gay man, I am angry that so many people are still diagnosed each year without this causing more focus in the gay community. Levels of stigma and ignorance are unacceptable and we need to work together to challenge this.
Education about protecting sexual health is largely absent in schools. It is especially tough for LGBTQI (Lesbian, Gay, Bisexual, Transgender, Queer, Questioning and Intersex) young people during years when we are most vulnerable.
This is not just an option for gay men. Large studies show that PrEP works for transgender people, heterosexual women and men and people who inject drugs. The NHS needs to look at high risk situations faced by many different people. PrEP enable someone to protect against HIV when their partner refuses to use condoms.
In the UK, we are suffering from a particularly stupid and inane decision to separate HIV services (funded nationally) from sexual health services (now funded locally). The wealth and experience developed by sexual health teams is being slowly broken down with no-one taking responsibility nationally. Sexual health services themselves are additionally jeopardised by being put out to tender.
I have been involved in both the PROUD study and the community responses to the exciting early results. The level of evidence warrants access now. It is not good enough to let this wait for years of further bureaucratic delays.
More information on PrEP