Generic ARVs in the UK – background paper for drug commissioning
8 June 2014. Related: General.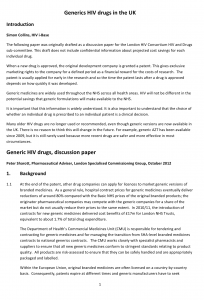 Leaflet in PDF format (82 Kb)
NOTE: New commissioning guidelines for London – April 2014.
Introduction by i-Base
This paper was originally drafted in 2012 as a discussion paper for the London HIV Consortium HIV and Drugs sub-committee, which I have been involved in as a community advocate for many years. This version does not include confidential information about projected cost savings for each individual drug.
As a member of this group I think the general information should be available to HIV positive people in the UK. It is still frustrating that the non-confidential minutes from these meetings are not posted online.
As background, when a new drug is approved, the original development company is granted a patent. This gives exclusive marketing rights to the company for a defined period as a financial reward for the costs of research.  The patent is usually applied for early in the research and so the time the patent lasts after a drug is approved depends on how quickly it was developed.
Generic medicines are widely used throughout the NHS across all health areas. HIV will not be different in the potential savings that generic formulations will make available to the NHS.
It is important that this information is widely understood. It is also important to understand that the choice of whether an individual drug is prescribed to an individual patient is a clinical decision.
Many older HIV drugs are no longer used or recommended, even though generic versions are now available in the UK. There is no reason to think this will change in the future. For example, generic AZT has been available since 2009, but it is still rarely used because more recent drugs are safer and more effective in most circumstances.
Generic HIV drugs, discussion paper
Peter Sharott, Pharmaceutical Adviser, London Specialised Commissioning Group, October 2012
1. Background
1.1  At the end of the patent, other drug companies can apply for licences to market generic versions of branded medicines.  As a general rule, hospital contract prices for generic medicines eventually deliver reductions of around 80% compared with the Basic NHS prices of the original branded products; the originator pharmaceutical companies may compete with the generic companies for a share of the market but do not usually reduce their prices to the same extent.  In 2010/11, the introduction of contracts for new generic medicines delivered cost benefits of £17m for London NHS Trusts, equivalent to about 1.7% of total drug expenditure.
The Department of Health's Commercial Medicines Unit (CMU) is responsible for tendering and contracting for generic medicines and for managing the transition from SHA-level branded medicines contracts to national generics contracts.   The CMU works closely with specialist pharmacists and suppliers to ensure that all new generic medicines conform to stringent standards relating to product quality.  All products are risk-assessed to ensure that they can be safely handled and are appropriately packaged and labelled.
Within the European Union, original branded medicines are often licensed on a country-by-country basis.  Consequently, patents expire at different times and generic manufacturers have to seek separate licences from each country.  The manufacturer is required to provide data showing that their products are bioequivalent to the originator product and will deliver the same clinical response.  They do not have to produce new data related to the drug's clinical indications, contraindications and side effects, etc., as detailed in Specific Product Characteristics (SPC) documentation.
2. Antiretroviral Drugs
The table at the end of this paper shows the UK patent expiry dates for antiretroviral drugs up to 2016.  It should be noted that these are not necessarily the dates when generic versions of these drugs will be actually on the market.  The minimum full year saving for all these drugs is estimated at £8m, based on anticipated discounts against current London contract prices and volumes.
2.1 AZT (zidovudine)
In 2009, AZT 100 mg and 250 mg tablets were the first antiretroviral products to be licensed in the UK.  The national generic contracts delivered significant cost reductions compared with the branded versions.   Although AZT is no longer widely recommended or used, the vast majority of people currently prescribed AZT as a single drug receive the generic product.
2.2 3TC (lamivudine)
This July 2012, two pharmaceutical companies introduced generic 3TC 150 mg and 300 mg tablets to the UK market.  New national contracts were introduced in October 2012 with a potential annual saving in London of about £900,000.
2.3 Combined AZT+3TC (Combivir)
Consideration could be given to reducing the use of the combined formulation of AZT+3TC (called Combivir) to take advantage of the lower combined cost of the single drugs, this combination is no longer widely used or recommended. At least one manufacturer it is expected to have a generic combination product on the UK market by May 2013.
2.4 Combined abacavir+3TC (Kivexa)
The combined cost of generic 3TC tablets with branded abacavir tablets is however significantly more expensive than Kivexa tablets and there is no need to consider prescribing the drugs separately.
2.5 Nevirapine
It is anticipated that generic versions of nevirapine 200 mg tablets will be available in the UK by mid-2013, compared with the patent expiry date of December 2012.
The delay is due to the granting of a patent extension to compensate for the later licensing of nevirapine for paediatric use; this is now common practice for drugs that did not have a full licence for adult and paediatric use when the product first came to the market.  It is unlikely that the patent for nevirapine 400 mg prolonged release tablets will expire at the same time.   This is the once-daily single pill formulation developed by the brand manufacturer last year.
2.6 Efavirenz
The introduction of generic efavirenz 600 mg tablets after November 2013 will provide a significant cost-saving opportunity.
The need to consider the prescribing of Truvada + generic efavirenz, instead of Atripla, will depend on whether there is a general reduction in the price of efavirenz and Atripla from the brand makers.
3. Next Steps
It is reasonable to assume that any licensed generic antiretroviral drug will meet all required quality standards and that patient care and safety will not be compromised by switching from the alternative branded product.
The intention would be to use these principles as the basis for managing the introduction of each new generic drug, taking into account the specific issues relating to current prescribing practice for that drug:
Effective communication to ensure that patients are informed about changes in product supply and to address any concerns they may have about their on-going treatment and care.  This is particularly important as the size and colour of the new generic medicines may well be different.
Identification of opportunities for maximising the cost benefits arising from the introduction of generic products.
Recognition that dispensing involving the substitution of a branded product with a generic alternative is based on long-standing custom and practice.
Consideration of the benefits and disadvantages of prescribing single drugs instead of combination products, taking into account the frequency of administration and the daily tablet count.
Table 1: Generic antiretroviral drugs in the UK
| | | |
| --- | --- | --- |
| Drug | UK Patent Expiry | Comments |
| AZT (zidovudine) | 2009 | Although no longer widely used or recommended, generic AZT is already used in the UK. |
| saquinavir | January 2011 | No UK generic available – very low usage. |
| 3TC (lamvudine) | February 2011 | Two generics available for 150mg and 300mg strengths from 1 July 2012.  London contract prices from 1 August 2012. |
| d4T (stavudine) | May 2011 | No UK generic available – very low usage. |
| indinavir | November 2012 | No UK generic available – almost no usage. |
| nevirapine | December 2012 | At least two generics for the 200 mg formulation expected from mid-2013.  Unclear on availability of 400 mg prolonged release formulation. |
| AZT + 3TC | May 2013 | At least one generic version  of Combivir will be available. |
| efavirenz | November 2013 | Generic products will be available as there is significant usage. |
| ritonavir | 2013/14 | Will impact on the cost of all protease inhibitor/ritonavir combinations. |
| abacavir | 2016 | Has implications for the combined abacavir/3TC (Kivexa). Generic versions of the combined formulation should be available. |
| lopinavir/ ritonavir | 2016 | Lopinavir/r (Kaletra) is no longer widely recommended or used but generic versions are already produced for use outside the UK. Heat-stable Kaletra and ritonavir may have a longer patent. |