HIV and coronavirus: i-Base articles and links (COVID-19)
16 April 2020. Related: News.
Simon Collins, HIV i-Base
This page links to i-Base articles and posts about the new coronavirus and COVID-19.
Introduction
The last weeks have seen unparalleled social, economic, and medical responses to this global health crisis.
Even with the examples of responses in China, Taiwan, South Korea and Italy as likely models the changes have shocked nearly everyone.
The restrictions to regular life will continue for weeks, if not months. Although still based on limited direct evidence, the advice for people living with HIV has slowly gained consensus. Most HIV positive people are at similar risk to general population. Having a very low CD4 count increases this risk and means you should 'shield' (see first Q below).
Since 23 March 2020, the UK has been on general shut down. Everyone is being told to stay at home in order to protect NHS services. This will bring specific difficulties for HIV care and sexual health – and for the health workers who provide front-line care.
i-Base articles will be linked below as they become available.
Q&A posts and non-technical links
HIV, PrEP, COVID-19 & Sex – What you need to know
Easy to read Q&As about HIV, sex and the new coronavirus – from HIV Scotland.
PrEP and coronavirus: what you need to know
Easy to read Q&As about PrEP – from HIV Scotland.
Sex and COVID-19 PDF
This information from NYC (online as a PDF file) includes positive information about how to manage a safer approach to sex during the coronavirus health crisis. It covers the safety of sex with yourself and of virtual sex including if your job currently includes sex work.
HTB articles and medical links
COVID-19 supplement no3 – 14 May 2020
The second issue of HTB with extensive COVID-19 reports.
Download: HIV and COVID-19 issue 3 (PDF)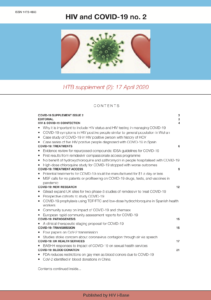 COVID-19 supplement in April HTB has over 30 reports: 17 April 2020
The second issue of HTB with extensive COVID-19 reports.
Download: HIV and COVID-19 issue 2 (PDF)
COVID-2019 special edition of HTB: 27 March 2020
This 20-page HTB supplement compiles links to articles and resources about COVID-19 including information for managing the care of HIV positive people. It includes short reviews of key studies and early guidelines.
Download: HIV and COVID-19 issue 1 (PDF)
US interim guidelines on COVID-19 and HIV
British HIV Association (BHIVA) statements on COVID-19
Public Health England (PHE) information on distancing
Guidance for everyone in the UK including HIV positive people on ART
PHE information on shielding
Guidance for people who are extremely vulnerable, including HIV positive people with a low CD4 count (less than 50 cells/mm3).
Information from World Health Organisation (WHO)
Future medical conferences and meetings
This HTB link will update information about HIV conferences, many of which have already been cancelled or rescheduled.