HIV and young gay people in London: two short online videos
13 October 2014. Related: Activism, General.
More a plug for two new online videos than a blog, these links relate to a public event held in Soho a couple of weeks ago.
The first video is 12 minutes long and edits interviews with five young gay men about how they feel about HIV. It covers talking about HIV and judging risk, and attitudes to HIV positive people and being HIV positive.
For anyone interested in gay life in London or in reducing the chance that in 2015 another 3000 plus gay men will test positive – invest 12 minutes of your time.
Young peoples attitude's to sex and HIV – youtube video (12 minutes)
"I've always used a condom really, but of course I've been in a situation where I haven't, of course, everyone has…"
"I have felt worried the next day, possibly … but I have come here before and gone on PEP"
The video was screened at the start of an open meeting about HIV and young people that was organised by David Stuart and the sexual health clinic at 56 Dean Street.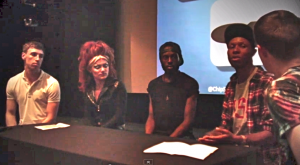 The second video includes clips from the discussion afterwards led by Pat Cash.
This included four well-known personalities from the London LGBT scene – smart, funny and articulate – and includes talking about sex, drugs and PrEP – but the real subject is how tough it is to have any confidence about your sexual health.
Young peoples attitude's to sex and HIV: panel discussion – youtube video (7 minutes)
"People are lonely, we live in a massive city. Sex is disposable… You can a five guys a day from Grindr and you may just try mephedrone or G to try to communicate with people on a different level…"
"When I had the chance [to use PrEP] whether I am using a condom or not, anxiety has gone…".
"We need to have events like this maybe once or twice a month… If we can go out every week and drink and bump drugs and have bareback sex we can definitely educate ourselves around what we are doing…"
"These discussions need to be had and I really hope this is not a one-off".
More information
PEP, PEPSE, PrEP and TasP
Information on new ways to reduce the chance of HIV transmission.
Glossary
TasP = Treatment as Prevention – awareness that an HIV positive person who has an undetectable viral load on treatment is unlikely to be able to transmit HIV, even without using a condom.
PrEP = Pre Exposure Prophylaxis – taking a daily pill containing two HIV meds that is highly effective at preventing HIV infection even when one partner is HIV positive and condoms are not used.
PEP = Post Exposure Prophylaxis – using a combination of three HIV meds for a month after a risk for catching HIV. PEP needs to be started quickly – ideally within hours, but can be obtained from a sexual health clinic or A&E department for up to 72 hours. The earlier PEP is started the more chance it will work.
Recent changes to PEP in the UK in September 2014 mean the drugs used are now far more tolerable and with fewer side effects.
PEPSE = Post Exposure Prophylaxis afte Sexual Exposure – sometimes PEP is referred to as PEPSE.