Angelina Namiba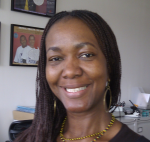 Angelina Namiba was an advocate at i-Base from 2011 to 2012.
Originally from Kenya, Angelina has over 13 years' experience of working in the HIV sector. She has worked on initiatives ranging from providing one-to-one support to people living with HIV; managing service provision to facilitating, promoting and advocating for the involvement of women living with HIV in forming and informing local and national strategy and policy.
Angelina co-authored the report Primary Care Access: how General Practice can better respond to the needs of people living with HIV.
As a woman living with HIV for more than a decade, Angelina is passionate about advocating for the sexual health and reproductive rights of women living with HIV. From 2010 – 2011 she lead on the planning, development and delivery of the pilot project From Pregnancy to Baby and Beyond with Positively UK. This developed a sustainable model of education, information, emotional and practical support, for women living with HIV through ante to post natal care.
Angelina has extensive experience of training, speaking and presenting on different aspects of HIV and has presented at numerous local, national and international conferences.
She sits of various Advisory Boards as a Community Representative. These include: the BHIVAPrimary Care Working Group; the National Study of HIV in Pregnancy and Childhood; the UK African Microbicides Working Group; Women for Positive Action and is a member of the UK CAB.
One of Angelina's greatest hopes for the future is for the day when treatment for HIV will be available, affordable and accessible to all those who need it globally.
Last updated: 20 April 2012.