Polly Clayden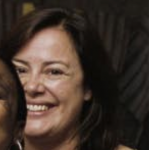 Polly Clayden has been working as an advocate and activist for over 20 years and co-founded i-Base in April 2000.
"Seeing people get better on combination therapy is without a doubt the most extraordinary thing I have ever seen. It made me become an activist."
Polly's expertise in many aspects of HIV research, includes women's health, paediatric care, and the prevention of mother-to-child transmission. She is internationally recognised as a leading community journalist and has led reporting on these and other aspects of care in HIV Treatment Bulletin since 2000, covering all major conferences and publications.
Polly is the author of the i-Base guide 'HIV, pregnancy and women's health' which is regularly updated and which has been translated into many languages.
For two years, Polly chaired the European Community Advisory Board (ECAB) and she co-founded the UK-CAB in 2002 and the World-CAB in 2004. In 2006 she co-authored 'Why we must provide HIV treatment information' a report from a global treatment literacy meeting organised by the Treatment Action Campaign and HIV i-Base in Cape Town.
In August 2008, after working closely with advocacy groups in South Africa, including the Treatment Action Campaign, Polly became the founder editor of HTB South, which is now distributed quarterly to over 17,000 doctors in Southern Africa (in association with the Southern African HIV Clinicians Society).
Polly is the community representative on PENTA steering group and on the BHIVA pregnancy guidelines committee.
Polly's long-term goal, after the cure, is to return to writing about style, design and the way things look.
Last updated: 12 February 2020.