Simon Collins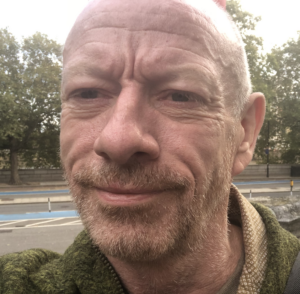 Simon Collins is an HIV positive treatment advocate who cofounded i-Base in 2000. 
"People living with HIV should have the choice to be actively involved in all aspects of our care. The latest information should be available to everyone in easy to understand language. This is essential to be able to make informed decisions about our health."
He co-ordinates the treatment information services including the phoneline and the website. Since 2003, he has edited HIV Treatment Bulletin and he also edits the i-Base treatment guides and the treatment training manual for advocates. In 2017, he produced ART in pictures: HIV treatment explained.
Since 2020 he has written more than 300 articles for a monthly supplement "HIV and COVID-19". He also wrote non-technical information on the new vaccines and the impact of COVID19 and HIV and covered the monkeypox (MPX) outbreak during 2022.
Over the years, i-Base copyright-free guides have been translated into many languages.
He is involved in developing community involvement in clinical research and treatment guidelines. He has been on the writing committee for several BHIVA (UK) and EACS (European) guidelines. He a member of the Drugs Sub Group for London HIV commissioners and on the Drugs Advisory Group for HIV Clinical Reference Group (CRG) for NHS England).
For two years, he co-co-chaired the European Community Advisory Board (ECAB) and in 2002 cofounded the UK-CAB which now has over 700 members. In 2002, he gave evidence to the UK parliamentary health committee on sexual health and in 2016 he contributed to the open discussions at the United Nations in New York on universal access to ART. In October 2021 he jointly won the 2021 EACS Award for Excellence in HIV Medicine.
Simon co-founded HIV i-Base with colleagues from the AIDS Treatment Project in London. He had volunteered at ATP and worked in various positions from 1997-2000 including as a peer advocate and director.
Publications
In addition to i-Base publications he has contributed to many published papers and treatment guidelines as a community representative. He has been an invited speaker at several HIV medical conferences and also presented original research. See Google Scholar.
He also reviews medical papers from a community perspective.
Links with research studies
Simon has been involved as a community representative on the following current or recent research studies.
Last updated: 12 October 2022.