ART in pictures: HIV treatment explained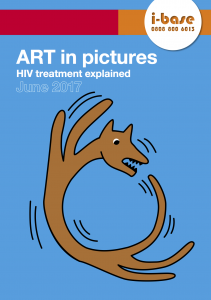 This resource explains some of the ideas and science behind HIV and treatment. 
It is easy to read.

 

Each section includes a picture and summary notes.

 

Additional text in each section tells a more detailed story.
It was developed as an advocacy course for people living with HIV.
Written and edited by Simon Collins for HIV i-Base. ISBN: 978-0-9553619-1-3.
Thanks to the advisory group of HIV positive people and healthcare professionals for comments including advocates at i-Base, Positively UK and Project 100. Proofreading by Roy Trevelion and layout by Jane Shepherd.
Additional graphics from three artworks by John Walter (aliensexclub.com), photographed by Jonathan Bassett. 1. John Walter, HIV Capsid, laser cut card and glue, 2015. 2. John Walter, Popcorn Fannypack is Confused at How Green Trimminz can Wear His Blinkers without Fear of Transmission as he Treads the Astroturf Labyrinth, (detail), Ink and watercolour on paper, 2015. 3. John Walter, Wayne Gibbous Stands Guard Against the Virus in the Intestine Corridor, (detail), Ink and watercolour, 2015.
Thanks to Monument Trust and MAC AIDS Fund for supporting i-Base publications.
Information about how we produced this guide and the importance of using language that is direct and easy to understand. This includes information on how to write non technical medical information that may be useful as a resource for other organisations.
Last updated: 1 April 2022.